Tropical Storm Debby gives my apartment a waterfront view.
Last week, after furious protest from New York City area Republicans, House Speaker John Boehner allowed $9.7 billion in Hurricane Sandy relief to pass the House of Representatives on a suspension vote. Among the 67 that voted no were two newly-elected ultraconservative Republicans: Rep. Ted Yoho and Rep. Ron DeSantis, both of whom represent coastal districts in North Florida.
That's one hell of a brazen commitment to "principle" coming from two Congressmen that represent hurricane-friendly turf! Below, I've mapped historic hurricane tracks over territory that is now represented by our Tea Party twins. Let's hope that the rest of America's members of Congress are forgiving when (not if) North Florida gets whacked with another hurricane and needs a relief bill. The gods of ironic punishment have plenty to work with!
The below map shows only direct hits by the storm centers. Hurricanes and tropical storms are massive systems that have effects hundreds of miles from the core, so this is only a sampling of the destruction that storms like Sandy have wrought on Yoho and Desantis's North Florida districts. TS Debby's track, which produced the flood of my apartment complex above, is not yet in the IBTrACS database I sourced the hurricane data from.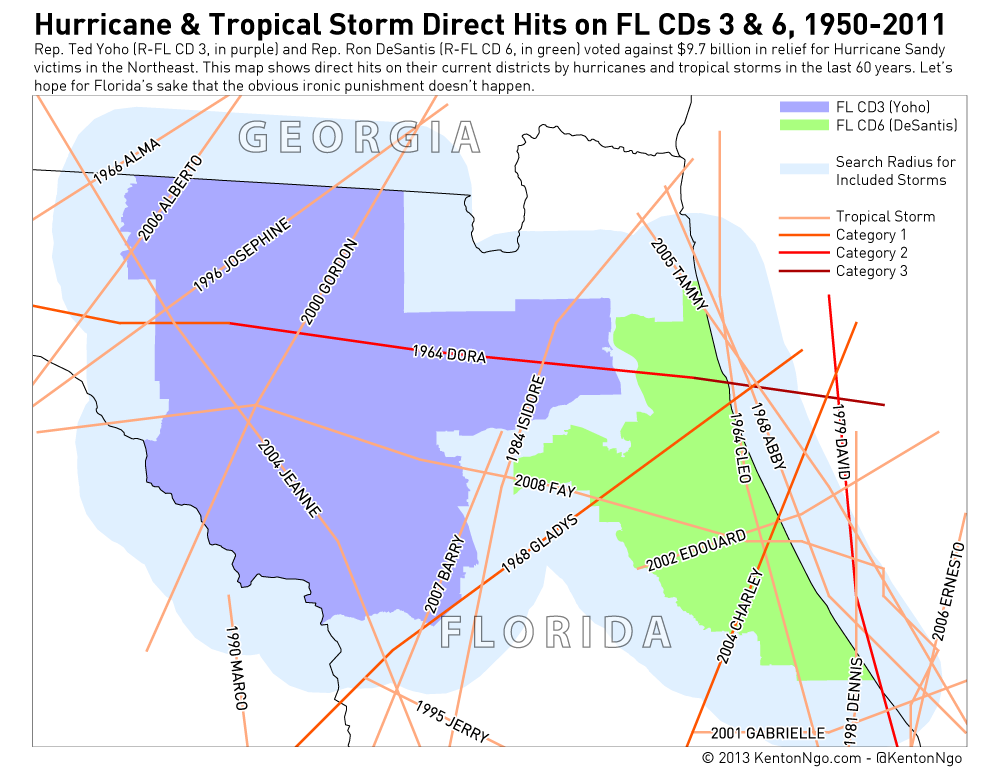 Related Posts via Categories