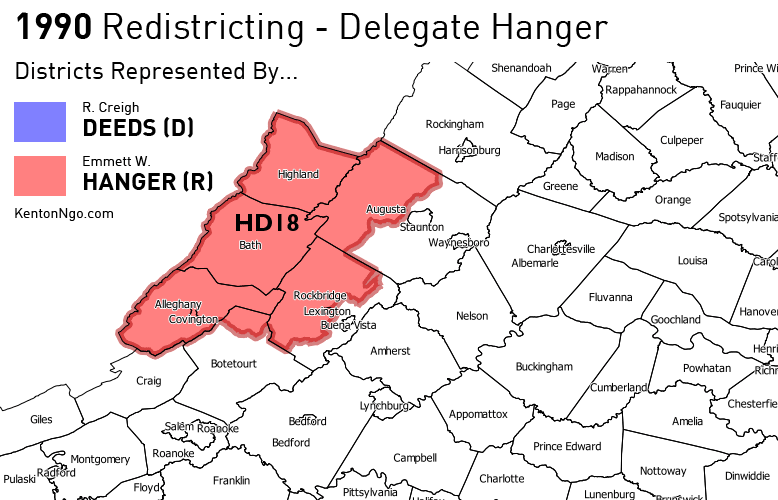 State Senators Creigh Deeds (D-Bath) and Emmett Hanger (R-Mount Solon) were the only two Senators in last week's Republican-proposed mid-decade redistricting to be thrown into the same district.
Should both seek re-election without moving, they would battle each other for the new 24th District in 2015, 24 years after Deeds defeated then-Delegate Emmett Hanger for House District 18 in 1991.
In the decades since, elections and redistricting have radically shifted the territory they have represented, overlapping and adjacent, to the point where they are barely connected at all to their original bases, shown in the animation at right.
1983 Election (not shown) – Emmett Hanger elected to the House District 26.
1990 Census – Democratic-controlled redistricting pushes Hanger into House District 18.
1991 Election – Deeds defeats Hanger in House District 18.
1995 Election – Hanger is elected to the Senate District 24, they share the area in purple.
2000 Census – Republican-controlled redistricting pushes Deeds into House District 12. Deeds territory heads south, Hanger territory heads east and they no longer share territory.
2001 Special – State Sen. Emily Couric dies and Deeds, after winning re-election to his House seat, wins a special election to Senate District 25.
2011 Census – Democratic-controlled redistricting stretches Hanger's district even further east.
2013 Mid-Decade – Proposed redistricting places both Deeds and Hanger into Senate District 24.
(I'll be happy to add a frame for 1983 if a Virginian can dig and scan in a map of the 1980 districts, presumably in a nearby library: Kenton@KentonNgo.com.)
Related Posts via Categories