January 19, 2017 – 10:48 am
Rick Perry – Energy
Betsy DeVos – Education

Steve Mnuchin – Treasury

Wilbur Ross – Commerce

Rex Tillerson – State


---
November 22, 2015 – 5:12 pm
Chinese cold eggplant.

Done properly, it's richly flavored firm, chilled eggplant with soy sauce paste with a hint of spiciness. Eggplant has a nutty flavor that can be coaxed out with care. If you were at the first dinner party where I tried to make this and overcooked the eggplant into mush, I apologize.
Go to your local Ethnic Mart. From the bewildering array of eggplant varieities, select the longest, skinniest Chinese eggplants. The bulbous eggplants are for Eggplant Parm, a dish in its own right, and won't do well in this application.
I spent a winter break as a teen tromping around Derry, New Hampshire ahead of the Presidential primary as a volunteer. Without a car, I was sent off to canvass snowbound turf with a Texas catastrophe lawyer who never took off his ten-gallon hat and vanished into the next day's sunset on the way to Logan Airport.
Even more snow was falling as I walked down Broadway when I dragged myself into Rig' A' Tony's and was tipped off to order an Eggplant Parm before I wiped the condensation from my glasses. Facing a certain loss next Tuesday and a winter that even the Derry locals said was the worst they'd seen in years … I can still close my eyes and see the melty cheese. Is there anything it doesn't improve?
I have never been able to replicate the experience since, it just hasn't been cold enough.
If you haven't passed out from this diversion, by now you should be home with your eggplant from the store.

As a child I believed that this was a collapsible hat. It is not
Place the eggplant on a plate and steam the eggplant for about five minutes, until it is soft. If it starts to turn translucent, you've overdone it — order pizza.
While it's steaming, prepare an ice water bath. You might discover that your past self has forgotten to refill the ice tray, possibly because (and I'm not making accusations) one is not the most forward-thinking person when raiding the ice tray for the fourth gin and tonic. Did you ever stop to consider that, Past Kenton, that present Kenton might not check before he puts the eggplant in the steamer that there is no ice?!
Shock the eggplant in the ice water bath (or cold water bath, if you drink too much gin), and refrigerate until chilled.
Prepare the sauce of 2 parts soy sauce paste (a thicker, sweeter form of soy sauce), 1 part soy sauce, 1 part water, some green onions, whatever amount of chili you'd like, and a splash of vinegar (black, rice also work if you forgot to buy any), and a couple drops of sesame oil. I eyeballed these quantities based on a demonstration my mother did for me, like everything else I've learned to cook. Mess with it until it tastes fine.
Pour over the eggplant and eat. Don't forget to fill the ice tray.
Rig A Tony's
38 W Broadway
Derry, NH 03038
RECOMMENDED: Finish your data entry first, then Eggplant Parm.
---
January 29, 2015 – 9:43 am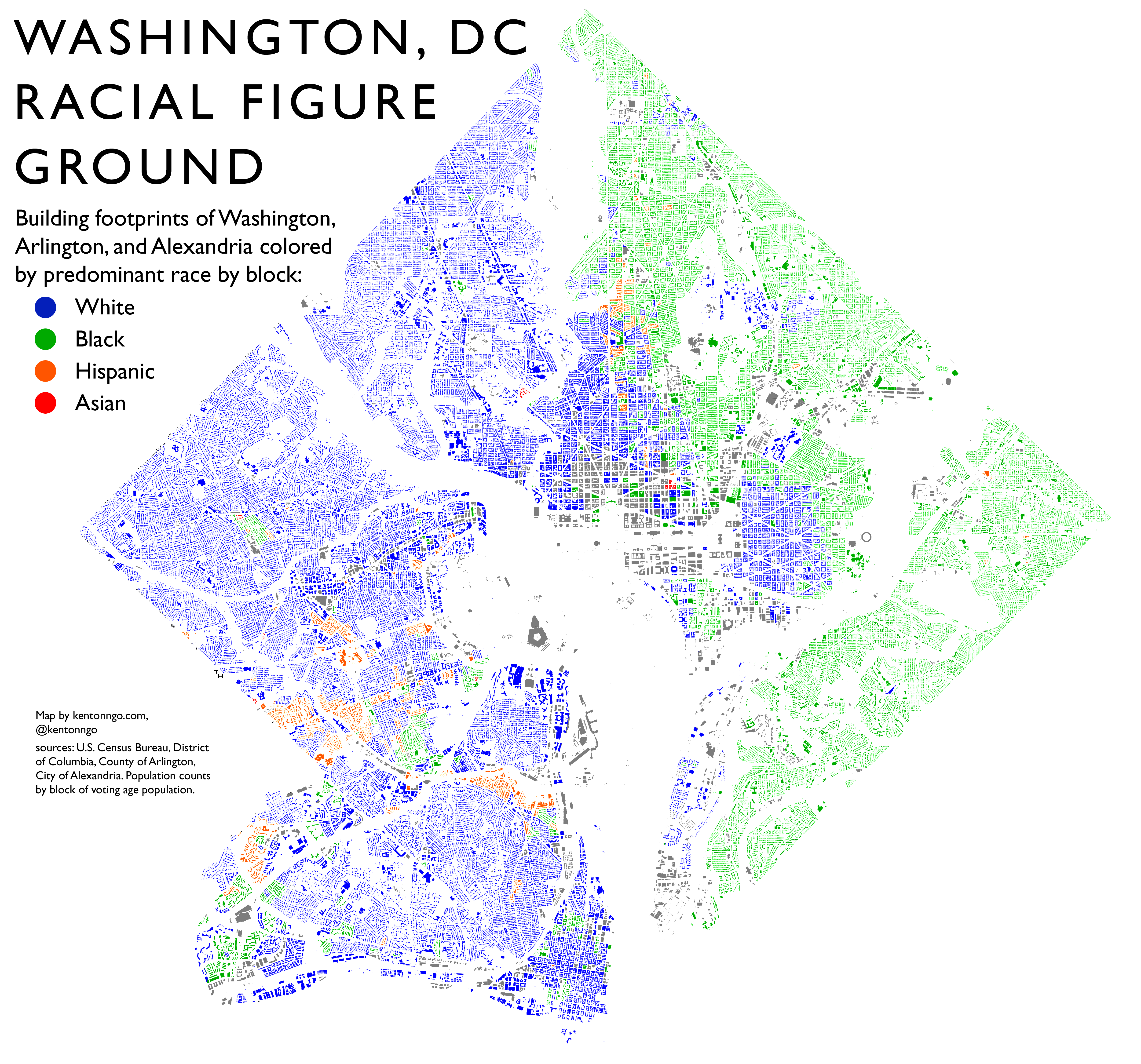 This map shows building footprints of Washington, DC, Arlington, VA, and Alexandria, VA, which together cover what used to be the ten miles square of the original District of Columbia. Each census block is colored in by its predominant race. Some of the gray areas are unpopulated office or landmark buildings that you'll likely recognize, like the Pentagon.
I think of it as a new twist on race dot maps (popularized by Bill Rankin) that are constrained to the actual buildings people might live in. The physical separations of neighborhoods, set by rivers and highways and railroads, show as gaps, along with more subtle divisions: where city grids and blocks  give way to meandering suburbs.
The flaw with this map is that it shows dominance over diversity. Farther out in the suburbs racial neighborhood divisions are less sharp.
For this map I used QGIS, and blended a layer of census blocks colored by race onto publicly available building footprint shapefiles from local governments, a relatively new feature. This was much faster than running a spatial join to create a new shapefile of buildings assigned by block.
Open Data Portals – Alexandria – Arlington – District of Columbia
---
November 10, 2014 – 12:42 pm
Virginia Senator Mark Warner (D) is the face of a dying breed — the Democrat who could win Southwest Virginia.
Last Tuesday, former Republican National Committee chair Ed Gillespie was unable to take the Senate seat from Warner, but Gillespie was able to wipe out Warner Country.
The signs have been there for over two decades.

The course of partisan realignment in Virginia's last 20 years could be charted through the electoral fortunes of Mark Warner, a Northern Virginia cell phone millionaire that could draw support among working-class whites. In his first Senate race in 1996 against incumbent Senator John Warner (the year of "Mark Not John" bumper stickers), Mark Warner outperformed in rural areas but met his end in vote-rich Fairfax County near Washington, DC, where he lost by over 50,000 votes.
Southwest Virginia's New Deal coalition was still holding together at the close of the 20th century. Where Democrats relied on rural black voters to narrow the margins in rural areas east of Appalachia, the Scots-Irish of Southwest Virginia celebrated by Senator Jim Webb predominated in the mountains. Every single Democratic candidate for President between 1932 and 2004, with the exception of George McGovern, carried coal-rich Buchanan County, with the help of organized labor. But as the older generation, still loyal to the party of FDR and LBJ, began to pass away, fewer and fewer of their offspring chose to stay in Southwest Virginia, and those that remained did not inherit their partisanship.
In 2001, Mark Warner ran for Governor, airing a minute-long bluegrass campaign jingle imploring the "people of the mountains at the end of their rope" to "vote in this election to keep our children home".
Mark Warner, the hero of the hills…
Warner won handily in 2001 with a coalition of black voters, middle-class suburbanites, and Southwest Virginia, but the cracks of the New Deal coalition in Southwest Virginia were already showing at other levels. Republicans had taken control of the Virginia House of Delegates in 1999, which allowed them to draw new lines for the 2001 elections. That year, Democrats lost 4 seats from the region in the Virginia House of Delegates — 1 to population loss through redistricting, and 3 to Republican replacements. This was only an intermediate stop in a long, slow decline for Democrats from Roanoke and Martinsville on west.
In 1992, Democrats held 14 of 16 Southwest Virginia seats in the House of Delegates. Today, they hold only 1 of 13, with Delegate Sam Rasoul of Roanoke holding onto the last seat, and a total of three seats gone to the winds of redistricting, pulled out by explosive population growth in the Northern Virginia suburbs, and pushed out by sluggish growth and decline in Southwest. With local offices serving as the bench for the Democratic team, an increasingly urban party is reliant on increasingly urban recruits.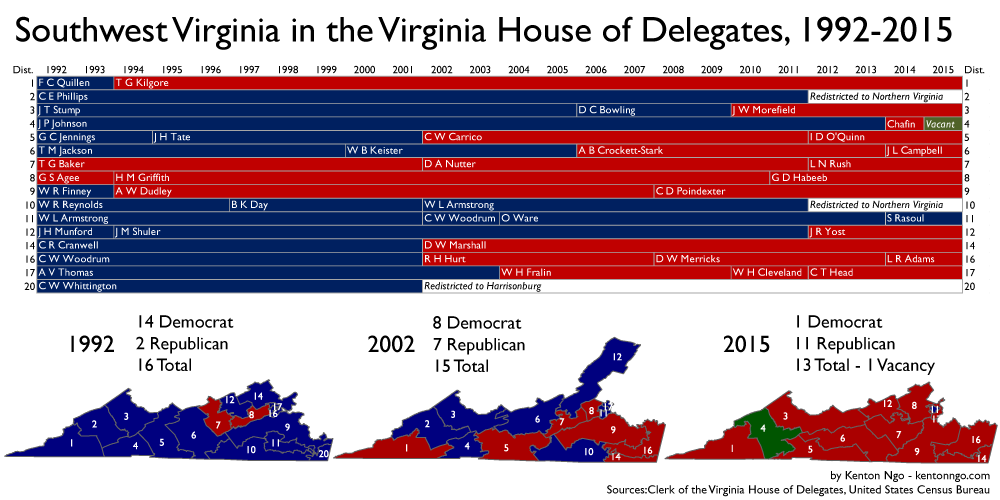 One seat, the 4th District, is currently vacant, as Delegate Ben Chafin was promoted to the State Senate, replacing State Sen. Phil Puckett (last seen under investigation for possibly trading a resignation for a job and daughter's judgeship, a scandal that Mark Warner managed to get entangled in).
Sam Rasoul is not the only one who could begin their bio with "The last Democrat in Southwest Virginia" in their chamber. State Sen. John Edwards is now the last Democrat in Virginia's upper chamber from the region.
Virginia's political future has long featured sharp differences between presidential years and off years. As rural strongholds of the FDR coalition are lost, Virginia Democrats are now almost exclusively reliant on strong minority turnout and fickle suburbanities. This strategy of running up the score in urban areas has kept Democrats in control of all 5 statewide offices (Governor, Lieutenant Governor, Attorney General, and both Senate seats) but leads to a structural disadvantage in downticket legislative elections. Thanks to this divide, Virginia can be considered a Democratic-leaning state in Presidential elections, with hollow success downticket.
Inefficiently packed in majority-minority and urban districts that are 60% or 70% Democratic, Democrats are forced to rely on increasingly difficult rural seats. Where you win doesn't matter in statewide races, but it can tip the balance in single-member district legislatures.
Mark Warner was the last Democratic recruit of his kind, a Northern Virginian who could win big in Southwest Virginia. For Virginia Democrats, the future is bright for urban-based Democratic recruits who can run up the score in urban areas on the way to statewide victory. But as all victories in politics do, it comes with a tradeoff: as voters become better sorted in parties, Democrats in the countryside face increasingly long odds.
---
March 14, 2014 – 6:25 pm
The pelican is a peculiar creature. Cedar Key, Florida, a sleepy vestige of Old Florida on the Gulf of Mexico about an hour southwest of Gainesville, is home to the smartest and stupidest pelicans in the world.
The smart pelicans have learned to quietly hover around the fishing docks and wait to be fed, or at least wait until the catch is off the hook before attempting to snatch it. The stupid pelicans snatch at the fish as it is reeled in, swallowing the fish, the hook, and as much fishing line as they can down until they are rescued. Fishermen were then faced with the choice of letting the (stupid) pelicans choke or retrieve the still-intact fish from their throats, unhook it, and then feed it to the poor bastard while the smart pelicans watched.
I was in Cedar Key to try the clam chowder at Tony's Seafood Restaurant, which went to New England and won several chowder competitions. This is a tall claim, not unlike going to Bordeaux and promoting your wine, so I had to see for myself. Few things taste as good as they do in hazy childhood memories like the chowder at Bob's Clam Hut in Kittery, Maine, slurped up after a long day of digging aimless canal systems in the sands of York Beach (I was a strange child), but memories cannot actually be ladled out in front of you. Bob's chowder was more of a clam and fish broth than a chowder, where it lacked thickness it gained a buttery richness packed with deliciously briny essence of clam. As someone who adores the flavor of unrestrained clam, I drank it right out of the styrofoam cup with a packet of oyster crackers. Spoons are for wusses.
I was only disappointed that I had not gotten the larger size (and that they didn't have oyster crackers, but hey, hazy memories). Tony's believes in a thick, creamy chowder that could hold its own as a meal, with a balanced, well-seasoned clam flavor. While they're famous for their chowder, their other offerings cannot be overlooked. Florida is a land of shrimp and oysters, with clams more prevalent further north. Cedar Key's clam farms buck this trend.
The fried shrimp sandwich may seem to be the most simple, pedestrian fare, but there is a wide gulf between greasy mediocrity drenched in tartar sauce and succulent, perfectly fried shrimp that steam when you bite into them and hold onto their breading. It starts with jumbo shrimp that hold their moisture as they are fried just long enough to be cooked, at a temperature high enough that oil does not seep into them. Breading enhances shrimp's natural sweetness, a flavor note that comes only when they are fresh enough. The breading should be thin, a protective layer of seasoning between the oil and the meat, not a massive wall that envelops and overwhelms the shrimp. This sandwich passed all tests.
The railroad that terminated at Cedar Key is long gone, destroyed by Union forces during the Civil War. The Florida Railroad once ran as the first cross-Florida line between Cedar Key and Fernandina Beach, another quaint island beach town on Florida's other shore that I lived in for the 2012 cycle. The pelicans run the show now.
---
January 19, 2014 – 9:12 pm
The outlook was quite brilliant for the Jersey Rs that day,
The polls stood two to one with barely six weeks left to play
But Chris Christie came to town and asked for an embrace,
A sickly silence fell upon the Fort Lee's mayor's face.
And now vindictive rage came hurtling through the air,
And Christie's staff looked at their phones in haughty grandeur where
With fury in their fingers and vengenace in their eyes,
"Traffic problems in Fort Lee!" went out the hue and cry.
There was ease in Christie's manner as the road closed lane by lane,
There was pride in Christie's swagger as he deflected all the blame.
And when, responding to the cheers, he blustered to the press,
No stranger in the crowd doubted that he could clean this mess.
From the benches, black with people, there went up a muffled roar,
Like the beating of the storm-waves on a stern and distant shore.
"He did it! Christie did it!" accused press from their stands;
But few would dare believe him, then Christie raised his hand.
With a smile of Christian charity great Christie's visage shone;
He stilled the rising tumult; the rumors he bemoaned;
And yet the rumors swirled, and the feds came to take a look;
But Christie still ignored it, Chris Christie is no crook.
Oh, somewhere in this favored land, the sun is shining bright
The band is playing somewhere, and somewhere hearts are light
And somewhere men are laughing, and somewhere children shout.
But there's no joy in Trenton–mighty Christie has struck out.
---
January 6, 2014 – 10:19 am
There, I said it.
You might remember Amy Chua. You might remember her as the deranged "Tiger Mom" that thinks wearing down your children to withered husks of misery was the way to get them into Yale, that thinks that calling her daughters "garbage" will be good for them. She's out with a new book, along with her husband, that builds on her troll theory of ethnic success, and argues some ethnic groups are more successful in America because they're just culturally better.
Included among them are the Chinese, who have enough model-minority nonsense to put up with before Tiger Mom came along, and the Jews, who have suffered long enough under the assumption that there's something different about their ethnicity that makes them more suited to certain things. It isn't terribly surprising once you put some thought into it that two Yale Law professors seriously believe in something so dangerous as ethnic determinism.
I suppose that never letting your children think they are good at anything might get them into Yale if they stay out of therapy, but my Chinese parents didn't beat the everloving daylights out of me, and I think I turned out fine. I didn't go to Yale, but I think of myself as a fairly successful guy who has been called both a "cartography wizard" and a "dirty ignorant scumbag". If you haven't been called a dirty ignorant scumbag by anonymous PTA moms slinging mud over a School Board race, I think you aren't successful enough yet.
Now, Chinese people are great (after all, one cannot underestimate a people that figured out how to steam a bun of soup), but it's too simplistic to read Chua's thesis as a form of racism. In fact, it's more sinister than that. Chua, her husband, and many other members of the 1% genuinely believe they got to where they were because they were somehow inherently better people. To them, it wasn't a society that opened its arms (sometimes reluctantly) to immigrants, gave them a social safety net so they could take risks without fear, and ensured at least a fighting chance at a stable, prosperous middle class. It's that they're ethnically better!
The worst part about this sordid saga is that both of them are tenured law professors at Yale. If anything exposes the dark, seedy underbelly of the elite views of their own superiority, it's that the people teaching future white-shoe lawyers and M&A sharks genuinely believe that some ethnic groups are simply not cut out for life. No wonder our social safety net is under attack.
When Americans think of Chinese-Americans, the mythology of the striving child of a poor immigrant clawing their way to the top persists quite well. But part of the reason that Chinese-Americans have done so well is that their parents were so highly educated in the first place. Of the foreign-born population in the United States, 50% of East Asians and 65% of South Central Asians had a postgraduate degree, while only 18% of non-Asian immgrants had one.
The Statue of Liberty might welcome the tired and poor, yearning to breathe free, but when immigrants came over the Pacific they weren't quite so tired and poor. Chua's father is a highly regarded professor at UC Berkeley, the flagship school of a system that holds a mystical mythology in the Chinese-American community (in Imperial China, the world revolved around the Middle Kingdom, but in Chinese-America it orbits the Golden State).
Years of Chinese Exclusion and racist quotas that restricted immigration to European countries meant that the vast majority of Asian immigrants came to the United States long after the Ellis Island era. By the time most Asians were even allowed to emigrate, they needed a relative with a top-flight education or a work visa to come. The poorest citizens in China couldn't ride a boat to the United States with no skills and no education if they didn't have relatives to sponsor them.
Plenty of Asian-Americans, especially among groups like the Vietnamese, came as war refugees with little else, closer to the popular story of an Asian immigrant. Many of their children are just as successful as the children and relatives of Chinese-Americans who came to get their PhDs, but they aren't as well off as the average. Many Asian groups have lower incomes than average because of the circumstances that brought them to the United States. But it isn't magic, or child abuse, that got us to where we are today. When a disproportionately large percentage of our community came are descended from a generation that came to the US to study, it stands to reason that Chinese parents are more likely to be well-educated, and that their children will follow.
Children of the first generation of Chinese-American immigrants would do just as well as anyone else if all circumstances were equal, but they're not. You don't have to whack your kids to make them catch up.
---