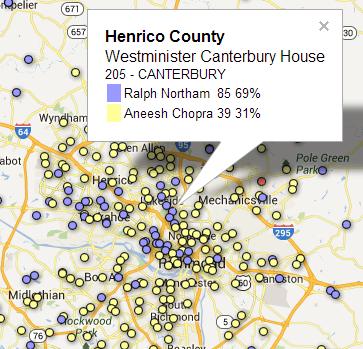 The following maps show precinct-level unofficial returns for statewide offices in the June 11, 2013 Virginia Democratic Primary.
Each dot represents one polling place, totals for polling places with more than one precinct are combined. Click to retrieve individual results, and use the zoom and pan tools to zero in on a neighborhood.
Democrats nominated State Sen. Ralph Northam and State Sen. Mark Herring to join gubernatorial nominee Terry McAuliffe. Republicans held a statewide nominating convention last month, which I mapped here.
Absentee ballots in Virginia are not broken down by precinct, and are not included in the maps.
For interactive county-level maps, check VPAP. I geocoded polling places obtained from the State Board of Elections directory in lieu of obtaining shapefiles from each locality.
These maps both look very similar. Both Northam and Herring assembled closely associated coalitions.
Last Updated: June 12th, 1:08 AM.
2508/2534 precincts (99% reporting)
Lieutenant Governor
| | | | |
| --- | --- | --- | --- |
| | Candidate | Votes | Percent |
| | Ralph Northam | 76,463 | 54.28% |
| | Aneesh Chopra | 65,997 | 45.81% |
---
Attorney General
| | | | |
| --- | --- | --- | --- |
| | Candidate | Votes | Percent |
| | Mark Herring | 71,037 | 51.63% |
| | Justin Fairfax | 66,547 | 48.37% |