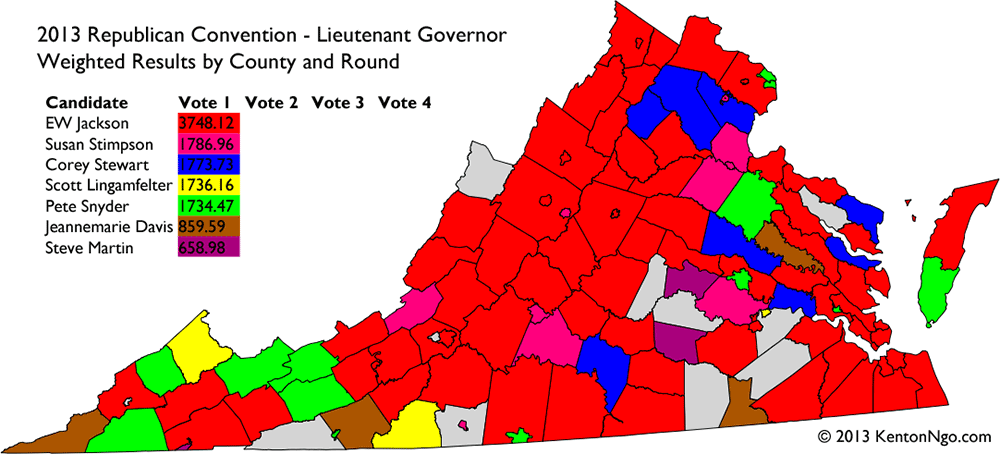 The above map shows the winner of each city or county's delegation from last month's Republican Party of Virginia convention. A handful of counties and cities were combined into the same delegations, and that is reflected in the map.
If you haven't heard of E.W. Jackson, this year's Republican nominee for Lieutenant Governor in Virginia, by now, you certainly will by Election Day. After muscling out six competitors in four ballots at last month's Republican Party of Virginia convention in Richmond, Democrats immediately reacted with glee. Jackson is a melon-smashing, gay-bashing, segregation-defending right-wing Tea Partier who blurs the lines between the truth and satire. Like it or not though, he led every round of balloting at the RPV convention and held his ground as the chaotic opposition scrambled from candidate to candidate. One wonders how many exhausted delegates leaving an all-day marathon balloting session thought they'd rather have an instant-runoff primary.
The convention format is not kind to moderates. Only diehards would stomach the thought of traveling for hours (the farthest reaches of Southwest Virginia are over 6 hours away from Richmond) to spend all day in a convention hall. Bill Bolling and Tom Davis knew this when faced with a convention for higher statewide office, and Tom Davis's wife Jeannemarie (no conservative slouch herself, but this is within a Republicans-only electorate here) learned the hard way this time around.
Official RPV results are here.