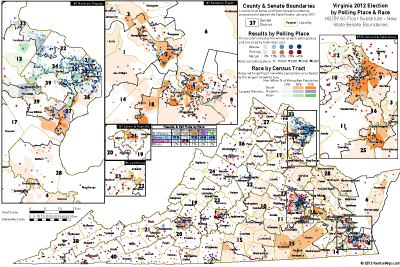 I have updated my previous visualization of 2012 polling-place returns in Virginia that showed a serious racial divide between diverse precincts and white precincts to include the mid-decade district lines rammed through the State Senate on Monday. See previous for comparison maps and old to new district redistribution figures.
Areas are shaded by their total non-white percentage and also whether those areas were more ▰ Black (orange), ▰ Hispanic (purple), or ▰ Asian (green). ● Blue dots showing Democratic precincts cluster in diverse areas, growing more intense as nonwhite population increases, while ● red dots showing Republican precincts correlate tightly to white areas.
Note the new Senate District 25 in Southside Virginia, which is a new majority-black (orange) district, and in Northern Virginia Senate District 37, which is a minority coalition district. These were deliberately drawn to pass Voting Rights Act muster.
Full-size graphic after the jump.